CHUWI RZBOX AMD RYZEN™ 7 5800H | Windows 10 | AMD Radeon™ Graphics | Octa-Core and 16 Threads | DDR4 16GB+SSD 512GB

Powerful yet compact
POWERED BY
AMD RYZEN™ 7 5800H
Built by the latest breakthrough 7nm technology, up to AMD Ryzen™ 7 5800H Processors that makes every task easier, 8 cores and 16 threads, allowing you to muscle through heavy workloads.Capable of being boosted up to a TDP of 45 watts, it's the fastest performing generation to date!
FAST GRAPHICS FOR RADEON ™
VEGA 8 GRAPHICS
Radeon Vega 8 graphics card, 7nm process, 8-core GPU, up to 1750 MHz frequency, and support for 10bit 8K decoding. Whether it's office software, creative design, intense gaming, or entertaining at home, the Radeon Vega 8 can handle it.
Gamer
Experience world-class HD gaming at 1080p in ultra settings
Renderer
Render 3D models with responsive performance in real-time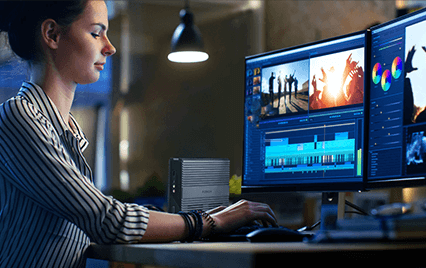 Content creation
Edit multiple photos and videos blazingly fast
Cooler, quieter and faster!
To keep it cool in all situations, uses 8 mm heat pipes, and an fan that efficiently accelerates heat transfer. The end result is that the mighty CPU can run comfortably at a blistering 45 watts total TDP in Performance mode — with no throttling!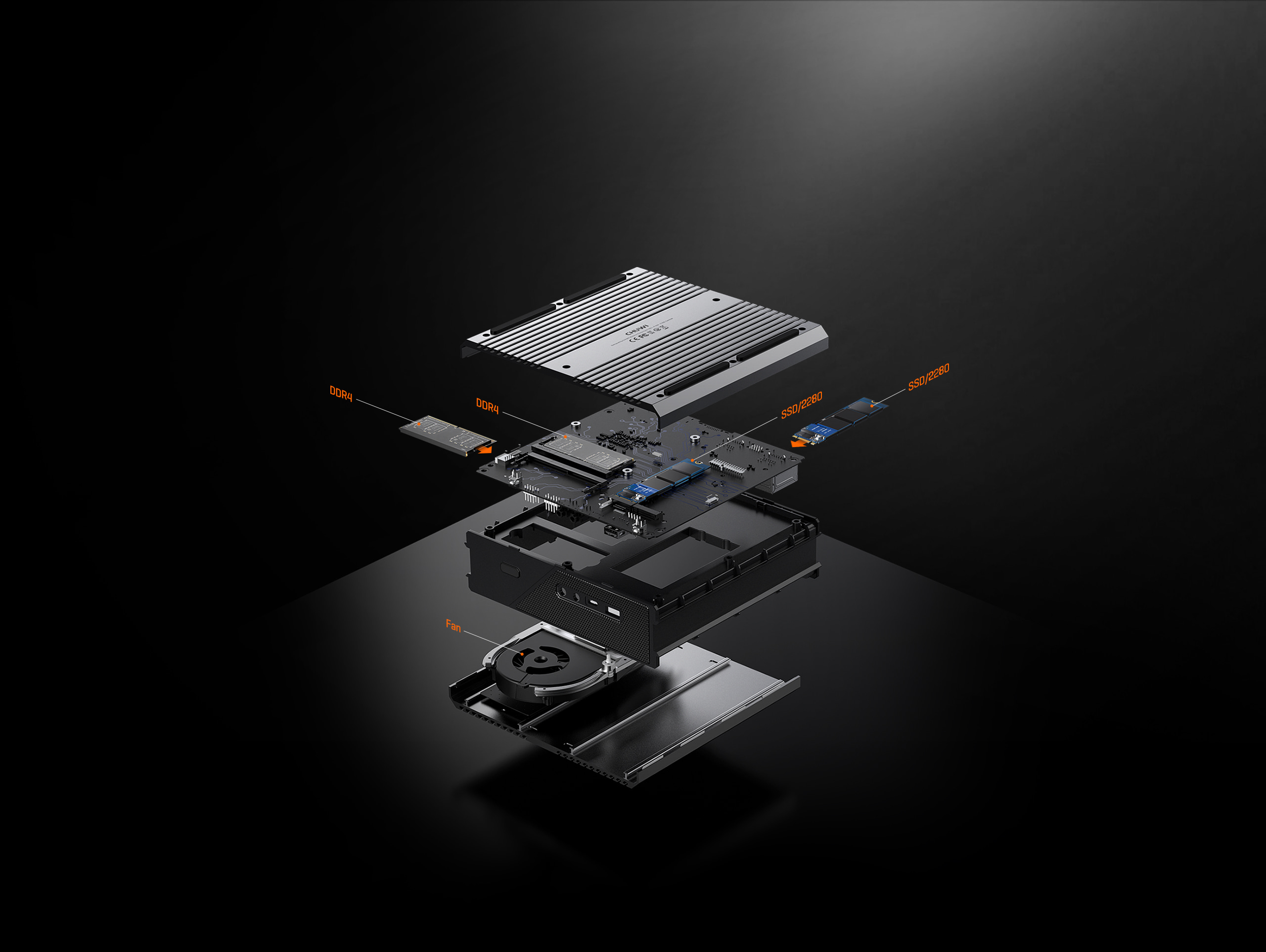 Upgrade-Friendly
RZBOX built-in 16GB DDR4 3200MHz memory,Dual-channel memory expansion slots(MAX 64GB). Up to dual M.2 SSD slot(M.2 2280 Nvme/SATA),Stocked with up to 512GB of storage.Quicker load times across your entire catalogue of apps and programs means less idle time waiting and more quality time for work and play.
Triple Displays,Support 4K@60Hz
You can enjoy 4K visuals with the AMD Radeon™ Graphics or expand your viewing area with 3 displays featuring DisplayPort, HDMI 2.0 and VGA port.Enjoy 4K visuals!
Keep Up Wireless Wi-Fi6
Equipped with the latest AMD RZ608 Wi-Fi 6 (802.11ax),boosts network speed and efficiency,1.4 times faster than its predecessor.and Stable connection with Bluetooth 5.2.
All the right connections
RZBOX comes equipped with multiple expansion interfaces for plug-and-play functionality for a full range of simultaneous work and entertainment applications. Supports up to three display outputs and can operate in multi-screen work efficiency mode.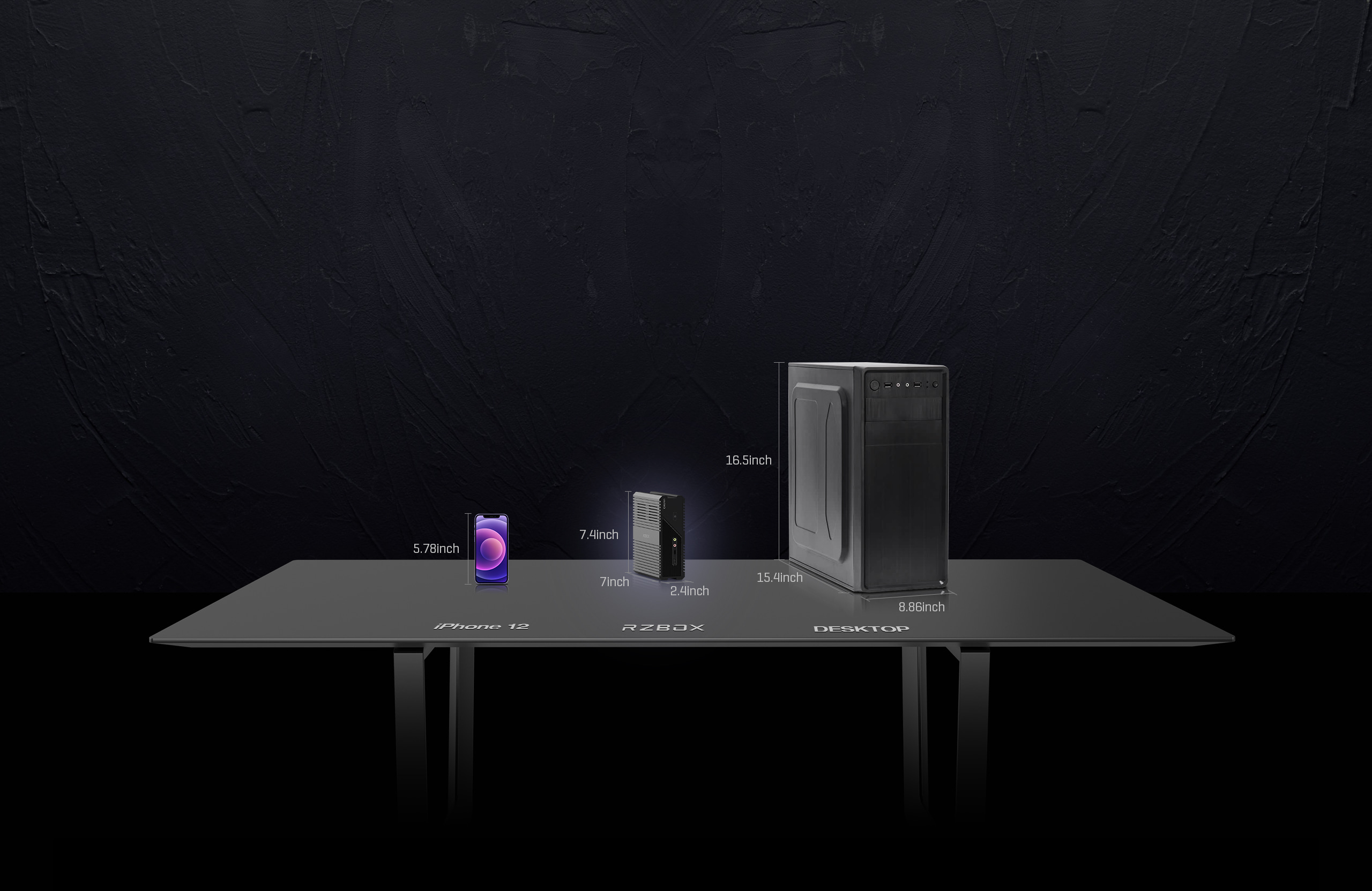 Metal MINI body- Pocket it
and Work anywhere
RZBOX has been constructed with an aluminum alloy metal body that is lightweight yet sturdy. The mini PC is only 7 x 7 inches in size and takes up only 2L compared to the traditional 20L host computers, saving 90% desk space. It's an ultra-high performance desktop computer that's small enough to fit in a backpack, purse, or pocket for anytime, anywhere, instant work and play.
Multi-system installation support
Standard RZBOX system is the latest Windows 11, RZBOX also supports Linux and Ubuntu for a vast array of software configurations.
Specifications
Product Name
RZBOX
Finish
Black
Construction Material
Al-Mg Alloy & Polycarbonate
Processor
AMD Ryzen™ 7 5800H, 8C16T, 3.2GHz-4.4GHz
Graphics
AMD Radeon™ Graphics
Video Output
4K60Hz
Storage
SSD/512G (PCIE)
Memory
DDR4/16G
Charging
90W(19V/4.47A) DC
Dimension
177.5*188.0*61.5(H)mm
Weight
1350g
Expandability
DDR4*1 maximum support 32G, SSD*1 SATA/PCIE 2280 maximum support 1T
Wireless
WIFI6(802.11ax),Bluetooth 5.2
Operating System
Windows 11
Main I/O Ports
2*USB-A 3.0 ,3*USB-A 2.0 ,
3.5mm headphone Jack,
3.5mm Microphone Jack,
Type A*1 HDMI2.0,
type-C 2.0,Display port*1,
VGA port,M.2 SSD port*2 (PCIE/SATA3) ,
SODIMM *2.
In the Box
"90W DC Power Adapter, PSE、CE、UL、FCC.
Multi-language instruction manual,
Certificate of Conformity,
quality certificate,
warranty card"
CHUWI RZBOX AMD RYZEN™ 7 5800H | Windows 10 | AMD Radeon™ Graphics | Octa-Core and 16 Threads | DDR4 16GB+SSD 512GB
Really powerfull
I bought this Mini Pc as my work PC, I installed Pop_OS 22.04 and it runs super fluid with some gnome extensions, I also install steam and Epic store and games run good, shadow of the tomb rider medium, control low, tekken 7 medium,need for speed remaster médium, that is OK for me, I'm really impressed with CHUWI, great quality, highly recommended
CHUWI RZBOX AMD RYZEN™ 7 5800H | Windows 10 | AMD Radeon™ Graphics | Octa-Core and 16 Threads | DDR4 16GB+SSD 512GB
Powerful machine, small box, lots of punch
This machine rocks. But all good things require a little time investment and understanding. I maxed this out with 64GB of RAM, and went for max size Nvme drives I could get. But note that you will need to tweak BIOS settings for the Nvme drives, and that certain brands (Samsung in particular) don't play nice with this box. But after settling on Corsair and some generic, I managed to fit 6TB of Nvme storage into this beast and it works flawlessly. The Windows 11 that comes with it needed to stay, so I imaged the drive that came with it and copied that to a bigger drive, and then just resized it. I had issues trying to start from scratch, but mainly due to drivers, etc. The support community is solid and reliable. This may not be for the faint hearted, but a seasoned computer builder should be able to extract the most out of this hardware and the results are awesome. Gaming is solid with the inbuilt Radeon graphics processor, and almost all games are playable. Latest next gen games may need graphics dialed back a bit, but other than that everything I've thrown at it so far has worked.