CHUWI Hi10 X 10.1'' 2-in-1 Tablet PC, Celeron® N4120 6GB+128GB
Whole New Class of Performance
Equipped with Intel's Gemini Lake N4120 processor, featured 4 cores, 4 threads, and boosts up to 2.4Ghz. Overall performance
improved by 100% compared to the previous Atom Z8350. Along with 9th gen UHD Graphics 600 GPU and advanced
ULV technology, Hi10 X brings smoother software experience, high quality 4K media decoding and decent battery life.
CineBench N4120 VS Z8350 Performance Comparison
Single-core benchmark of Hi10 X - N4120
Single-core benchmark of Hi10 Air - Z8350
150%
Single-core Performance
Multi-core benchmark of Hi10 X - N4120
Multi-core benchmark of Hi10 Air - Z8350
110%
Multi-core Performance
CPU benchmark of Hi10 X - N4120
CPU benchmark of Hi10 Air - Z8350
For More Efficient Multitasking
Upgraded to 6GB LPDDR4 power efficient RAM, brings smooth performance whether you're switching between different programs,
opening dozens of Chrome tabs or document files. 128GB storage with up to 128GB SD card expandability meets
the needs of storing daily documents, video and audio files.
Best Display Of Its Class
10.1 inches of FHD IPS display with G+FF full-laminated process,
brings vivid and bright image to you. 16:10 aspect ratio suitable for
both work and entertainment.
Lighter Full Metal Chassis
Full metal unibody design gives Hi10 X the weight of only 600g
and thin to only 8.8mm. Delicate CNC and anodic sandblast
oxidation processes provides extra premium texture.
Write and draw naturally
Sketch and shade with precision with 1,024 pressure points
that respond to the lightest touch. Ink flows directly from the
tip of your Pen to your screen with virtually no lag.
Ultra-fast Connection by Dual-band WiFi
Hi10 X supports dual band WiFi with stable 2.4G and high speed 5G. Also equipped with the latest Bluetooth 5.0 protocol,
ensures extra stability in wireless connection.
Build to Last All Day Long
ULV processor and low power DDR4 RAM combined with large capacity Li-Po battery, Hi10 X can easily last a whole working day.
Dual USB-C For Extra Expandability
Hi10 X features dual USB Type-C ports, the most popular port for the moment. One for charging and another for data
transfering, easy and fast.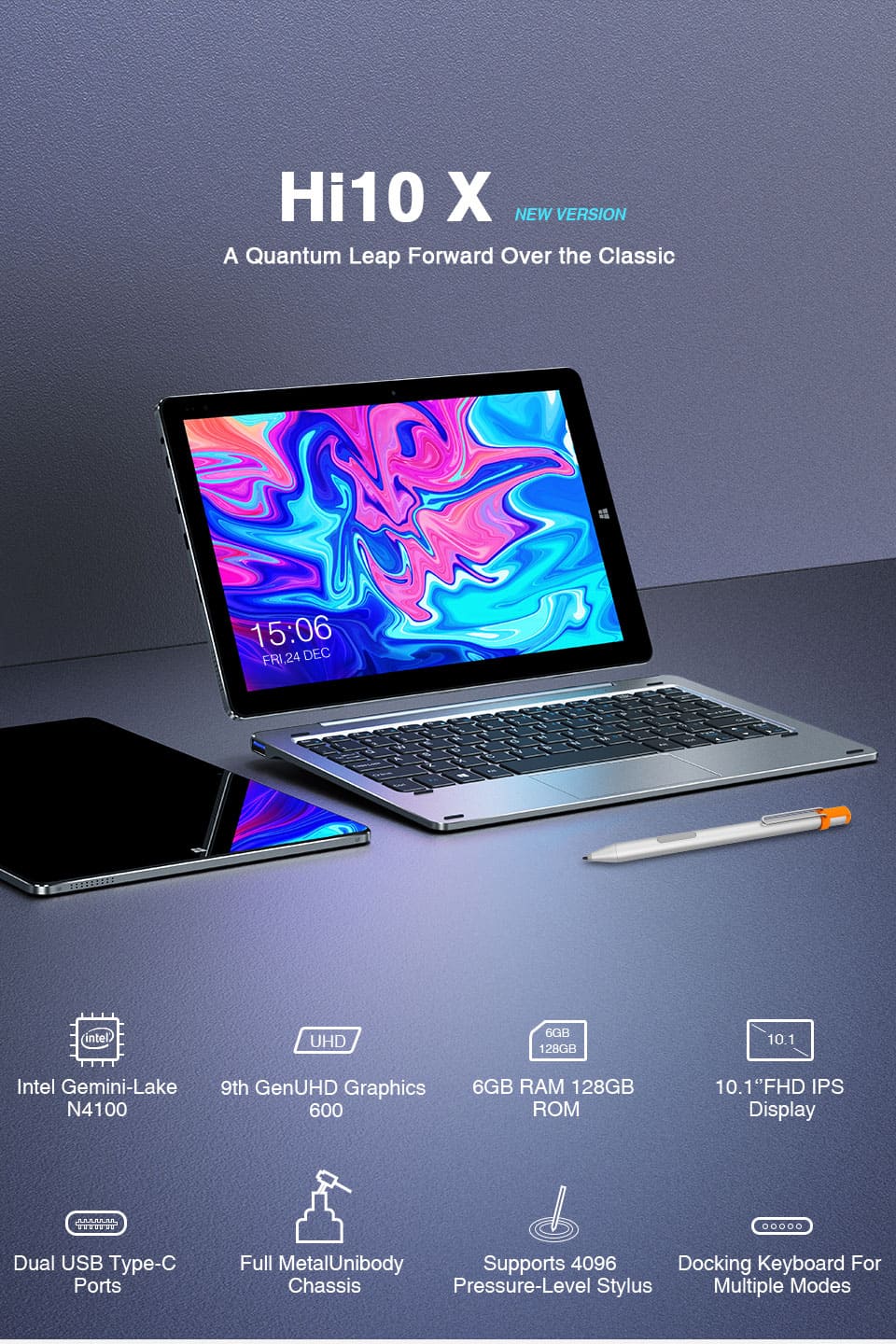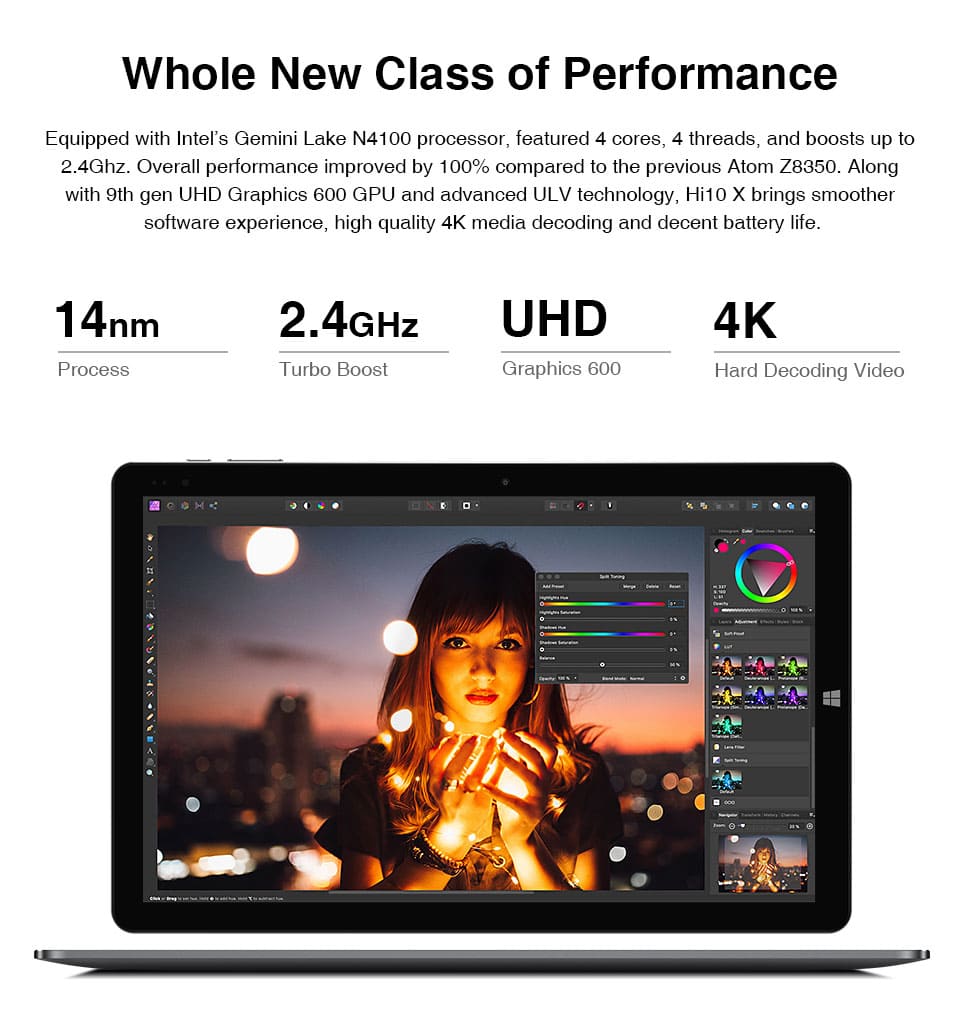 Specifications
| | |
| --- | --- |
| Product Name | Hi10 X |
| Finish | space gray |
| Operating System | Win10 1909 |
| Display | 10.1 inch,1200*1920 FHD,16:10 IPS |
| Processor | intel Gemini-Lake, N4120,4C4T |
| Graphics | Intel® UHD Graphics 600 , 700MHz |
| Storage | 128G |
| Memory | LPDDR4 6GB |
| Battery | 24.05Wh/7.4v 3250mAh |
| Charging | 12V 2A |
| Dimension | 261.8*167.3*8.8(H)mm |
| Weight | About 600g |
| Main I/O Ports | Type-C USB3.0,USB2.0,Micro HDMI,3.5mm Audio Jack, TF card |
| Wireless | 802.11a/ac/b/g/n, 2.4G\5G Dual-band wifi,Bluetooth 5.0 |
| Keyboard | Chiclet Keyboard |
| Stylus | Hipen H7 | H6 |
| In the Box | 12V 2A adapter, PSE, CE, UL, FCC certified |
I I bought the CHUWI Hi10 X 10.1 + keyboard + stylus
Hello,
I bough, 2 x CHUWI Hi10 X 10.1 + keyboard, they are very good, I received on 2º (2x keyboard) and 3º (2x CHUWI Hi10 X 10.1 ) of march.
Now it´s 13 march 2023 and i´not received the 2 x stylus.
I keep waiting...
Affordable and Meets Expectation.
This tablet is a much cheaper alternative to Microsoft SO3. Good enough for surfing web, emails, and some office work. Streaming videos is also alright but YouTube videos tend to stutter at the beginning. Otherwise the tablet is light and handy.
Linux Mint on Chuwi Hi 10 X with N4120 processor
I bought this unit, as the Chiwi MiniBook is currently not available, and as I was looking for a small form-factor travel companion.
Here are my initial impressions after using it for about one week...
Overall: Great machine for portability and office-like work! If the machine will last me for 3-5 years: this will be exceptional value for money.
What I do not like so much:
- Windows 11 OS - I removed it immediately
- On Linux Mint 21.1 Cinnamon: One-time set-up of screen orientation needed --> disable automatic rotation in the screen settings.
- On Linux Mint 21.1 Cinnamon: Audio does not yet work. (Audio works on Manjaro Linux 22.0.4, but it is barely audible). I expect this to be fixed soon.
- Due to the small form-factor: the touch-pad is rather small. This can be overcome by using the Hi Pen, which I ordered with my unit.
- Storage capacity of 128GB internal can only be extended (internally) by an extra 128GB via TransFlash card. - I would have preferred an option to increase internal storage to at least 500GB, as an external drive will add extra bulk to me.
- Some sort of a holding device for the Hi Pen would have been nice. I will need to be very careful not to loose the pen.
What I really like:
+ Great form-factor, this little device will literally fit into any of my bags and will become my travel companion. It is sufficiently powerful to provide me with my computing needs while on international travel.
+ Battery life on Linux is quite sufficient for my use-case (5+ hours)
+ I am amazed by the quality of the display. The screen is really bright and very crisp (the lowest brightness setting could be even a little lower for me)
+ Basic pen functionality under Linux Mint 21.1 with Cinnamon is great. - I haven't used any advanced features of the Hi Pen 7, as the basic functionality is sufficient for me. Please note that under Linux Mint 21.1 XFCE edition the pen is not yet recognised correctly, after you adjust the screen orientation.
Conclusion: Great machine for my use-case. - I will register my interest for the MiniBook to get notified when this will be available again in Europe.
I STILL WAIT FOR THE DIGITAL PEN
I RECEIVED THE PC ONE DAY, THE KEYBOARD ANOTHER AND THE DIGITAL PEN I HAVE NOT RECEIVED IT YET.
FOR THE USE I WANT TO GIVE IT, IT IS WORKING ALMOST WELL, SINCE SOMETIMES THE PAGE I HAVE OPEN IS MINIMIZED WITHOUT APPARENT CAUSE.
THE KEYBOARD DOES NOT HAVE THE SPANISH CHARACTERS PRINTED, EVEN THOUGH THE KEYS DO MARK THEM.
LIMITATION IN SPEED AND CAPACITY ARE NOTED, BUT THAT WAS ASSUMPTED.
THE BEST, THE SIZE AND THE DURATION OF THE BATTERY, AT LEAST ONE DAY.
THE WEIGHT IS NOT BAD, BUT IT IS NOT LIGHT WEIGH FOR THE SIZE IT HAS.
I'M STILL WAITING FOR THE DIGITAL PENCIL.
THANK YOU