CHUWI LarkBox X AMD Ryzen 7 3750H | AMD Radeon Vega 10 GPU | Quad-Core and 8 Threads | DDR4 8GB+SSD 256GB (PCIE)
LarkBox X
Compact as bread,
yet strong as unstoppable!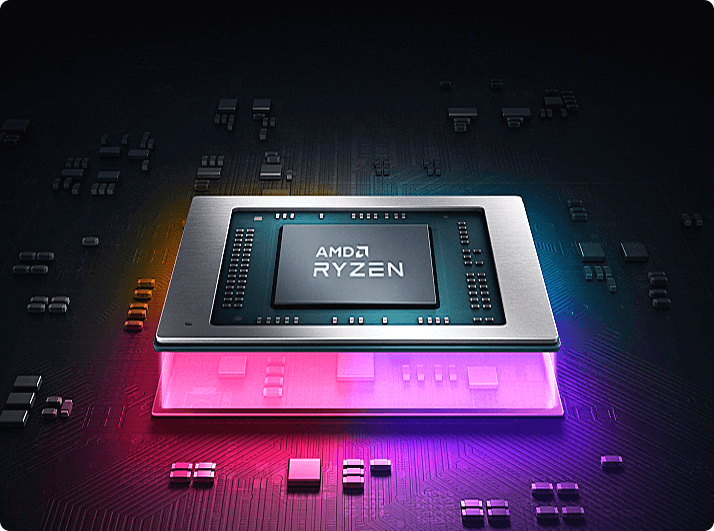 AMD Ryzen 7 3750H CPU
Quad-Core and 8 Threads
4.0GHz turbo frequency
AMD Radeon
Vega 10 GPU
1400MHz
Triple-Screen Output
4K ultra HD
Massive Storage Combo
DDR4 8GB RAM / 256GB PCIE SSD
WiFi6&Bluetooth5.2
Super stable and strong
connectivity
Portable Mini Size
Easy carrying and space saving
AMD Ryzen 7 3750H CPU
Quad-Core and 8 Threads
4.0GHz turbo frequency
AMD Radeon
Vega 10 GPU
1400MHz
Massive Storage Combo
DDR4 8GB RAM / 256GB PCIE SSD

Triple-Screen Output
4K ultra HD
WiFi6&Bluetooth5.2
Super stable and strong
connectivity
Portable Mini Size
Easy carrying and space saving
AMD Ryzen 7 3750H Processor
Quad-Core and 8 Threads
LarkBox X mini PC is powered by AMD Ryzen 7 3750H processor, Quad-core and 8 threads, 2.30GHz main frequency and 4.0GHz Turbo frequency, which ensures faster and smoother operation for your different needs such as work, visual home entertainment, games, streaming video, web browsing, office, home-learning, etc, and without any pressure for multitasking.
DP+HDMI+Full-featured Type-C Port
Triple-Screen 4K@60Hz Output
3 screens can be connected by 1 full-featured type-C, 1 HDMI and 1 DP port, creating a larger workspace and using multiple different applications more easily at the same time, which will double the work efficiency. This mini PC supports 4K UHD resolution, bringing you fabulous visual experience, and you can share the ultra HD moments with your family and friends.
AMD Radeon Vega 10
Graphics
LarkBox X mini desktop computer packs a powerful AMD Radeon Vega 10 Graphics with a frequency of up to 1400MHz, high performance with great graphics capability, which provides you with smooth online games experience, a first-class life-like visuals experience and realistic images quality. Satisfy all your visual fantasy.
DDR4 8GB+256GB PCIE SSD Storage Combo
LarkBox X is built-in dual-channel 8GB DDR4 RAM+256GB PCIE SSD ROM, which allows to easily deal with simultaneous multitasking, entertainment, audio and video, office, etc. You can easily expand the RAM storage up to 32GB (2 x 16GB, Max 2400Mhz) and ROM storage up to 1TB for more excellent performance and smoother operation. Make your work and life easier.
Cooler, quieter and faster!
To keep it cool in all situations, uses 8 mm heat pipes, and an fan that efficiently accelerates heat transfer. The end result is that the mighty CPU can run comfortably at a blistering 25 watts total TDP in Performance mode — with no throttling!
Keep Up Wireless Wi-Fi6
Equipped with the latest AMD RZ608 Wi-Fi 6 (802.11ax),boosts network speed and efficiency,1.4 times faster than its predecessor.and Stable connection with Bluetooth 5.2.
Multi-interface for More Possibility
LarkBox X mini PC has 4 USB 3.0 ports, 1 full-featured type-C port, 2 RJ45 Gigabit Ethernet interfaces, one 3.5mm audio output, 1 display port (4K@60Hz) and 1 HDMI port (4K@60Hz), for a full range of simultaneous work and entertainment applications, which brings more possibility to your work and life and meets your different needs.
Portable Mini Size
& Space Saving Design
LarkBox X features a mini square body with smooth edges and compact dimensions measuring just 173 x 158 x 73mm/6.8 x 6.2 x 2.9" and weights about 460g, lightweight and portable, take it easily in your palm. It makes your desktop clean and tidy, saving space and bringing convenience to your work and life, and can be put in a bag for easy carrying at any time. In addition, you don't have to bring extra power supply with you as the full-featured type-C port supports PD power supply.
Mini in Size
Space Saving
About 460g
Specifications
Product Name
LarkBox X
Finish
black and white
Construction Material
Polycarbonate
Processor
AMD Ryzen™ 7 3750H,4C8T,2.3GHz-4.0GHz
Graphics
Radeon™ RX Vega 10 Graphics
Video Output
4K60Hz
Storage
SSD/256G
Memory
DDR4/8GB (4G*2)
Charging
19V/3.42A
Dimension
127*127*49(H)mm
Weight
400g
Main I/O Ports
4*USB-A 3.1 Gen1,3.5mm Audio Jack,
Type A*1 HDMI2.0,USB-C,Display port
Expandability
M.2 2280 SSD
Wireless
WIFI6(802.11ax),Bluetooth 5.2
Operating System
WIN10 Home
In the Box
19V/3.42A DC Power Adapter,PSE、CE、UL、FCC.
Multi-language instruction manual,
Certificate of Conformity,
quality certificate,
warranty card
Buen producto y a precio razonable para lo que necesitaba.
Era lo que quería por precio y utilidad. De momento funciona sin ningún problema. Llegó antes de lo esperado y muy buena presentación.
Very good Mini PC
very good mini pc, very affordable with good specs. low power cosue and wonderful design. i personally use it for everyday use and as a retro-gaming station. it will be nice to see a good laptop with these same specs in the future. good job CHUWI
Very happy with this little box!
I've been looking for a cheap but capable pc for a while and then I got an email from CHUWI about the new larkbox X. I'm fully satisfied with the product. It's just powerful enough for my needs, it plays my (limited) steam games at a reasonable FPS out if the box, like AoE2 definitive edition and Left4dead2 at 1080p. It's really good value, with an nvme SSD, dual channel ram configuration, WiFi 6 and 2.5gb Lan ports. There are always compromises with budget hardware like this, but I don't think this can be beaten for price/performance. The spec (if you upgrade the ram, which I plan to do at some point in the future) is also very close to the steam deck, which I think is a good benchmark for running a lot of games "reasonably" for the next year or two! Highly recommended.
Very good mini PC
I am using this PC 5 days a week and 24 hours a day. No noise and no heat.
Just perfect for my needs.
Clearly worth the buy 👍
Bought on sunday, received on tuesday 😱 just astonishing ! (I live in France, and I think it helped to be stocked in Amazon Warehouses, but still !).
I bought it during the discounts, and this tiny PC is clearly worth its price, simply just amazing.
The aim was to replace my old laggy living room pc, mainly for web surfing and streaming, but with the power setteld, I managed to install a game like Dragon Ball Fighterz which run like a charm 😍 And it's also enough powerfull to run Wii U emulator at 60 fps !
So, definitely a must have, thanks to Chuwi for this design, thanks for this short delay for delivery, its a success and this is why I put 5 ⭐ !
PS: the only regret I would have is that it's not possible to add a 2.5" ssd sata in addition while the space inside would make it possible...
Chuwi, is there any mod you could make available to make this possible ?